Welcome to our inaugural edition of Conversations Over Cacao, a newsletter to celebrate nature, ignite the senses, and pique your curiosity, brought to you by the team at To'ak. For this first volume, our co-founder Jerry Toth details his experience celebrating the summer solstice from 12 km south of the equator line, renowned food educator and activist Charles Michel discusses his idea of infinite beauty, and we share a few of our favorite things. We invite you to brew yourself a rich cup of cacao and dig in.
Subscribe here to receive Conversations Over Cacao directly in your inbox monthly.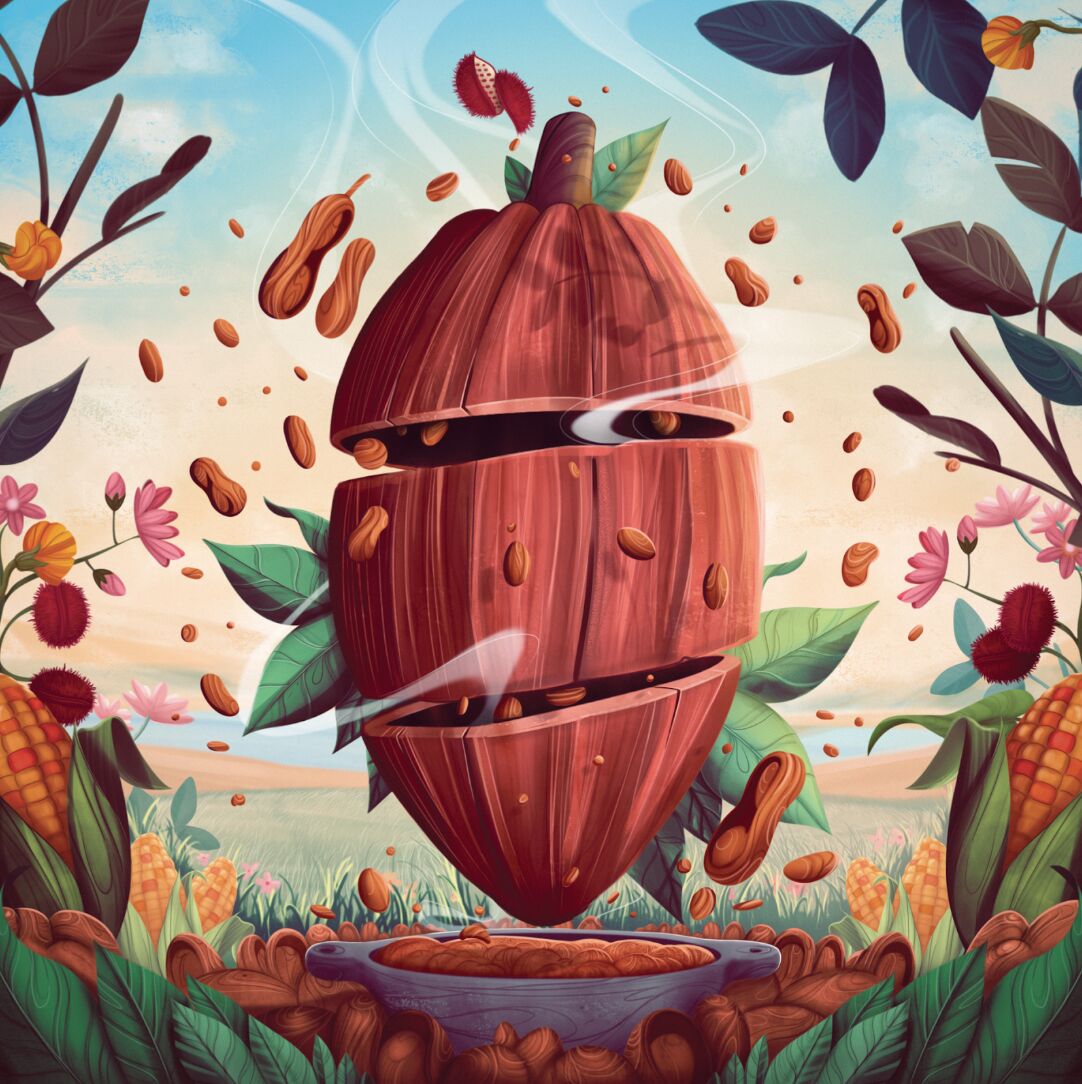 Born in Cuba, raised in Colombia, and now a resident of Ecuador for over 20 years, artist Pablo Hierrezuelo created this piece with a focus on the ancestral codes that are behind Ecuadorian cacao. He captures the plant's mystical properties and heady aromas in this warm and whimsical art piece. Follow Pablo on Instagram.
The Case for Celebrating Summer Solstice
The summer solstice has long been celebrated—oftentimes in bacchanalian fashion, with feasts and pagan rituals and also, apparently, orgies. In many parts of the modern world, the summer solstice as a holiday has long been forgotten, with the exception of Scandinavian and Baltic countries, which still treat it as the most festive day of the year. 
Things are a bit different here in Ecuador, where days are almost exactly 12 hours long every day of the year. This is particularly the case in the Jama-Coaque Reserve, which is located only 12 kilometers south of the equator line, and where I have spent many a summer solstice.
Even here, though, the cosmic implications can be visually observed. The balcony of the Bamboo House, from my favorite hammock, affords a prime view of the sunset—when the fog of the rainforest permits. The view west looks out over a perfectly green and wild valley, with a long mountain ridge in the distance, behind which the sun sets every day.
But it doesn't set at the same place. The mountain ridge in the horizon has a series of small yet distinct peaks, on which the shapes of individual trees—some of them massive—can still be distinguished from the naked eye, as seen from my hammock. For the six months that precede the summer solstice, the sun increasingly tracks northward, setting behind different peaks with each passing month. Until, on the hallowed day, the sun reaches its northernmost point, whereupon it begins its six-month migration in the other direction. 
This all leads me to one obvious point: all life on our beloved planet is defined by its relationship with the sun. And the summer solstice is one of the most celebrated reminders of this simple yet cosmically significant fact.
Let us raise a toast to that great star to whom we all owe our existence.
-Jerry Toth, Co-Founder To'ak & Third Millennium Alliance
Food for Thought
Ecuador is rather small (slightly smaller than the U.S. state of Nevada), yet it's one of 17 megadiverse countries, and the most biodiverse country per square kilometer in the world. With an incredible geographical spread—which includes the Andes, Amazon, Pacific coastline, and Galápagos Islands—Ecuador is home to three of the world's 10 biodiversity "hot spots," 18% of the world's bird species, 10% of the world's amphibians, 8% of the world's mammals, and the most plant species in South America. And that's just what's been documented.
5 Questions With Charles Michel 
Food Educator, Activist & Alchemist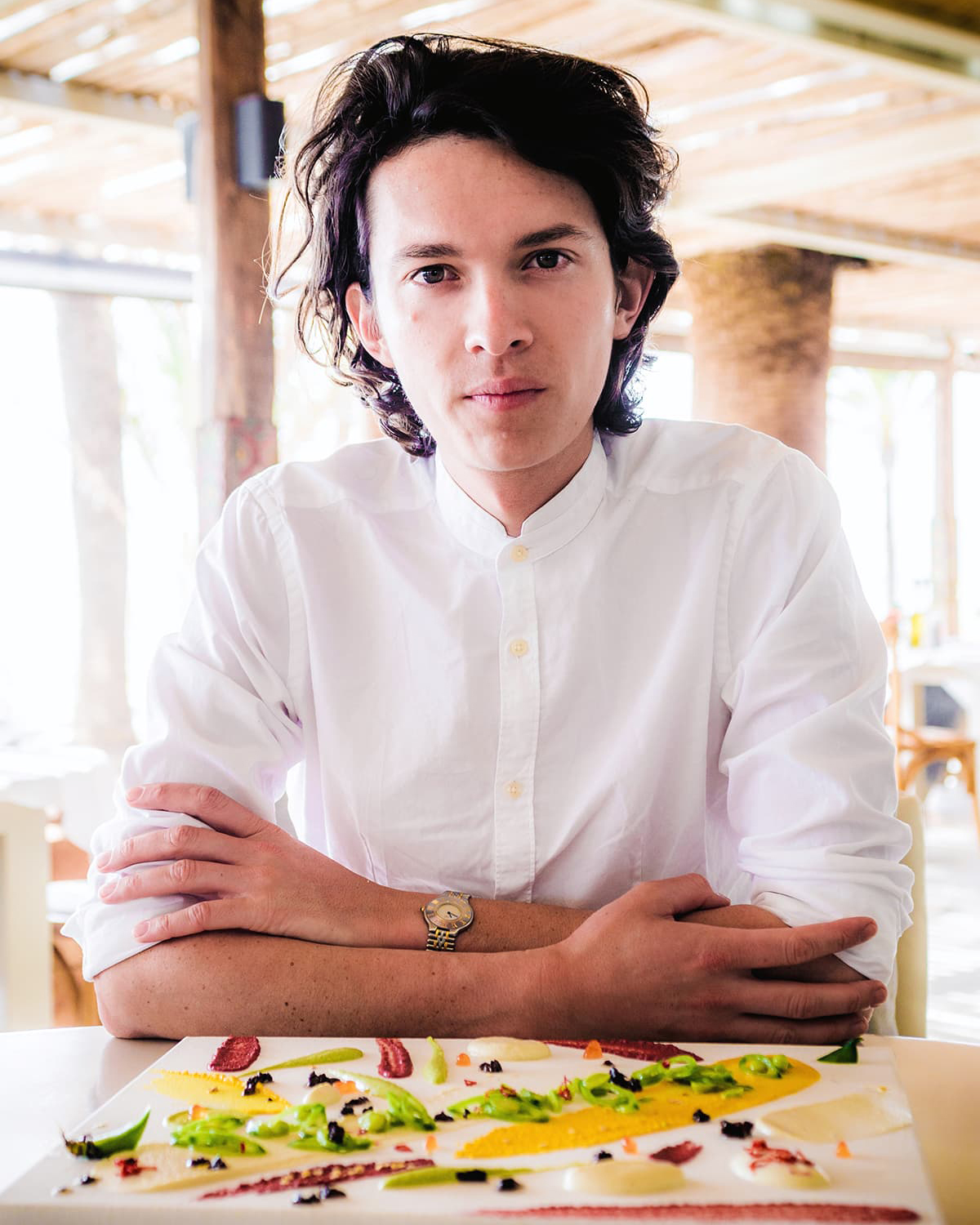 Working at the intersection of science, art, philosophy, community, and entrepreneurship, Charles Michel aims to inspire solutions for urgent global challenges. In recent years, he has worked on cutting-edge projects in community building, food innovation, regenerative hospitality, and experiential art.
Dubbed one of the top chefs in the world, he starred in 'The Final Table' on Netflix and gained a large following as a result of his conscious-eating mission. He was recently chosen as one of the 50 Next Empowering Educators among other "creative minds transforming society through food-led learning and development."
1. What is a book or podcast you recommend?
For those interested in Latin American history—specifically around native peoples defending their land and nature from colonialism—I recommend the Elemental podcast by Nicolás Ibargüen, a Colombian environmentalist and journalist.
2. What is a luxury you afford yourself?
My father is a beekeeper, so one luxury is collecting many varieties of honey and regularly indulging in those sweet nectars and aromas. The world of honey is a bit like the world of chocolate—it's a source of infinite beauty. 
3. When was the last time you enjoyed sensory bliss?

Last night, actually! I am hosting many beautiful humans at my family's home for the solstice, surrounded by nature. We are cooking delicious food grown from our garden. Biting into a freshly harvested artichoke, lettuce leaf, or onion, and feeling the life in the ingredients I'm consuming is pure sensory bliss. It's the simplest, most primal connection to food and the senses.
4. What's a tradition from your childhood that you want to carry on?

With my French family, the tradition I would like to keep is having dinner with the fireplace going. We feel that the presence of fire between the kitchen and dining table gives life to the home. Having wood fire close by is something that nourishes me on a daily basis.
In my Colombian family, we gather with cousins, aunts, and uncles to sacrifice an animal and create a beautiful traditional recipe around it. My family are farmers, so we will respectfully sacrifice a few hens, for example, and make sancocho de gallina. For extra special occasions, we will sacrifice a calf and do it a la llanera, which is a very important tradition in the Llanos Orientales, in the eastern part of Colombia where my family is from.
5. How do you answer the call of the wild?

I answer the call of the wild by spending a good part of my year living in a treehouse in the woods, built by the hands of my friends and family. Simply being in the trees and in direct connection to nature fuels my body and soul in ways that no city can. I feel it is our natural state to live in nature. Life in the city feels Increasingly unnatural.
The Science of Our Senses
At Oxford University's department of experimental psychology, Charles Michel published over a dozen articles in scientific journals on crossmodal perception and multisensory aesthetics. For one of those articles, he looked into the link between visual arts and the food on your plate. 
Our senses are part of a multi-purpose, holistic system that informs how we interpret and experience everything—down to the food on our plate. As Michel writes, "Traditionally, the visual composition of food on a plate, or plating, has often taken place in an intuitive manner. Researchers interested in the aesthetics of food have started to assess people's overall preferences when it comes to the visual composition of food on the plate, and the impact that this may have on the consumption experience." 
This study, published in the International Journal of Gastronomy and Food Science, found that principles borrowed from the visual arts can, to a certain extent, be applied to plating. The overall consensus? Most of us will find a clean, balanced plate more delicious than a messy, asymmetric one. If anything, this is a good reminder for your next dinner party. 
Too Good to Keep to Ourselves
A few inspirations to fuel your wanderlust, bow down to fire, and reflect on the state of our planet.
The Travel Diaries
In this interview series, British journalist Holly Rubenstein chats with special guests about their adventures around the world and the travel experiences and destinations that have shaped their lives. Now on season 7, she's talked to a wide range of personalities, including Sir Richard Branson, Lonely Planet founder Tony Wheeler, and Dr. Jane Goodall.
Richard Wrangham, Catching Fire
Recommended by our featured guest Charles Michel, this book by Harvard professor Richard Wrangham offers an anthropological look at the role of fire within human evolutionary biology. "It argues that we are not only creatures of the flame, but also of the relationship that we establish with nature through our food," Michel says. "It made me realize just how central cooking is to human existence and survival."
Breaking Boundaries: The Science of Our Planet 
This 2021 Netflix film provides a highly synthesized summary of earth's biodiversity and the natural systems that keep us humans alive. Biologist and broadcaster Sir David Attenborough joins scientist Johan Rockström to explore what needs to be done collectively and individually to stabilize these systems before it's too late 
Trojan Records: Summer Reggae
The legendary Trojan Records, founded in 1968, helped put Jamaica on the musical map, introducing the world to reggae pioneers like Desmond Dekker, The Maytals, and Jimmy Cliff. The label compiled this sun-soaked mix of classic ska, rocksteady, and reggae that captures the rhythms of Caribbean life.
Conversations Over Cacao acknowledges the traditional custodians of the lands and cultures in which our contributors are based, including the Quitu (or Kitu) culture of Ecuador, Tongva of the USA, and Awabakal of Australia. We pay our respects to Elders past and present.
Kind Regards,
To'ak Team
Featured products