Tequila Cask Aged
50g (1.76 oz)
Ingredients
73% Cacao beans, cane sugar
Story
We selected our Rain Harvest 2015 - Light (73%) to mature in one of our Don Julio casks.
Flavor Profile
Ripe fruit, agave, vanilla, nutmeg, oak
Dietary Information & Allergens

*Dairy Free, Gluten Free, Vegan *Manufactured at a Kosher certified facility *Produced in a factory where milk, peanuts, and tree nuts are handled.
Sustainability and Certifications

Our cacao comes from non-certified organic farms. We personally know each of the farmers and their farms and conduct several monitoring visits per year to ensure no synthetic or chemical inputs are used.

To'ak pays cacao growers the highest farmgate prices of any chocolate company in the continent: 3-9x more than the Fair Trade price. Read more in our Transparency Report.

Your purchase supports our work in regenerative agriculture and heirloom cacao conservation.

Cacao sourced from Piedra de Plata is certified Heirloom Cacao by HCP Fund.

Satisfaction Gaurantee

We are confident you'll love our chocolate as much as we do. Please contact us if, for any reason, you're not completely satisfied.

Our guarantee covers any reasonable dissatisfaction with the product and damage or loss in transit. The guarantee is valid for 30 days from the date of purchase, providing you have proof of purchase and a photo of any reported damage.

To make a claim, please complete this form. You can also contact us by phone, email, or chat should you have any questions about a claim.

Please note that gift cards are non-refundable.
Free Shipping and Insurance

Like with all our caramel chocolate, we aim to ship your chocolate with the utmost care, ensuring it arrives quickly and in perfect condition.
Same-day shipping cut-off is 7am Mountain Time (Mon-Wed during warm weather and Mon-Fri during cooler weather)


* We ship worldwide with FedEx, UPS, or USPS
* Your order may be held and shipped Mon-Wed if your shipping route or destination is experiencing hot weather
* During warm weather, we ship with insulation and ice packs
* We offer a satisfaction guarantee and cover damage or loss in transit

Further details and a list of countries we cannot ship to can be found in our extensive FAQs
Cacao's Story
We selected our Rain Harvest 2015 - Light (73%) to mature in one of our Don Julio casks.
We believe that Don Julio's pioneering work in the craft of tequila has much in common with our work in the craft of chocolate.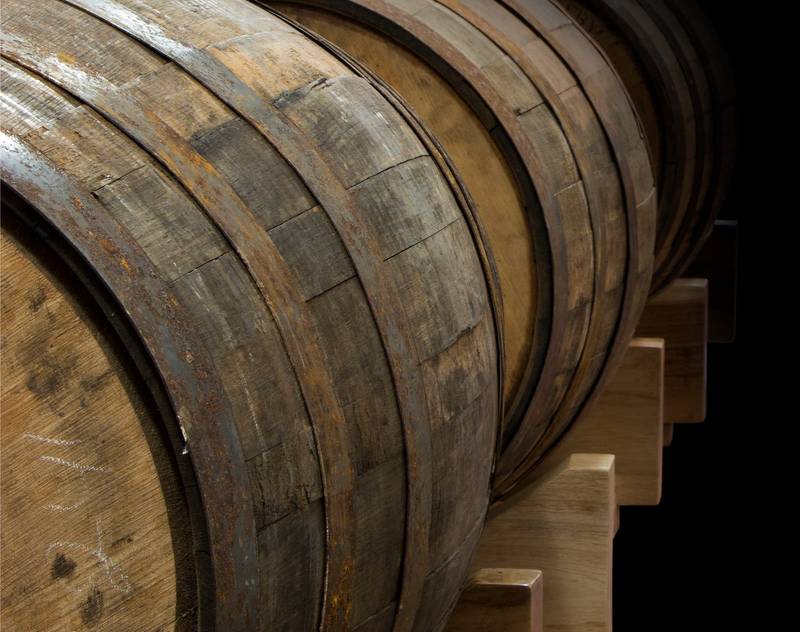 We believe that Don Julio's pioneering work in the craft of tequila has much in common with our work in the craft of chocolate.
Tequila Cask Aged
Vintage Ecuadorian dark chocolate aged in Don Julio Tequila casks.
In 1942, a man named Don Julio González set out on a course that would revolutionize the tequila industry. Up until then, tequila was primarily made and consumed as a basic alcoholic spirit, with almost no emphasis on quality—analogous to the consumption of chocolate as mere candy. As a true innovator, Don Julio set about improving every single element of the tequila production process, from harvesting and aging to bottling and tasting. Ultimately, he was responsible for elevating tequila to the level of a fine spirit, on par with the finest whiskies and cognacs.
We believe that Don Julio's pioneering work in the craft of tequila has much in common with our work in the craft of chocolate. It also just so happens that Don Julio's añejo tequila is generally one of our favorite pairings with To'ak chocolate. In partnership with its parent company Diageo, Don Julio offered to send us three of their barrels to age our chocolate in. Our response was: "Umm, yes please."
In one barrel, we inserted our 2015 "Light" edition (73%), in another barrel we inserted our 2015 "Dark" edition (80.5%), and in the third barrel we inserted cacao nibs. We discovered that both chocolate editions proved to be far more absorptive of the barrels' aromas than the nibs were. We attribute this to the fact that the natural oil present in both cacao and chocolate (i.e., the "cacao butter") is more readily accessible in well-refined and tempered chocolate, whereas the harder surface texture of the nibs renders it less accessible. The natural oil within the chocolate is what's responsible for absorbing delectable external aromas, such as exist inside an ex-Don Julio tequila barrel.
Don Julio Añejo Reviews
"Beautifully smooth, luxuriant añejo from one of the most respected producers in Mexico. Rich, distinctive and wonderfully complex, this is a Tequila to savour."
-Don Julio Añejo review by The Whisky Exchange.
"On the nose, vanilla and caramel are enlivened by a hint of spice and underpinned by cooked agave. The palate is extremely pretty (in only the best way), with honey and agave nectar added to the mix, along with lashings of pepper."
-Don Julio Añejo review by The Distiller
Both 2015 editions of chocolate—the 73% and the 80.5%—were both coming along very nicely, but the 73% seemed to acquire the tequila aromas more quickly, and could likewise be felt more powerfully.
With our 73% chocolate, the extended conch time produced a softer chocolate, with subtle fruit notes overlaid with honeyed caramel. Interestingly, honey and caramel are two of the signature flavor notes of Don Julio's añejo tequila. These common flavor characteristics have come together to create a lovely chocolate with a smooth butterscotchy style and a sweet agave twang.
Another reason we're particularly drawn to this edition is because of the commonalities we see in the crafts of chocolate and tequila. During much of the 20th century, tequila had the reputation of something cheap that people drank in the form of a shot, often with the sole objective of getting drunk. In a similar vein, chocolate had the reputation as a cheap piece of candy that people consumed mostly for the quick spike of sugar that accompanied it.
The 21st century has seen a fortuitous change in fate for both tequila and chocolate. Today the finest tequilas—with Don Julio representing the upper echelon—are often tasted "neat," like a glass of whisky, and they have the flavor complexity to match. Entire tequila- and mezcal-themed bars are cropping up in major cities across the world. This is a trend that Don Julio González himself helped initiate some 75 years ago. Now we're attempting something similar in the world of chocolate. Fortunately, we're not alone in this. The rise of high-quality, single-origin dark chocolate is a global reality. We take pride in being the vanguard of this movement.
Fruity with an Agave Twang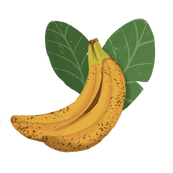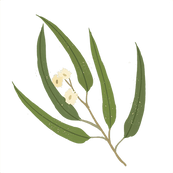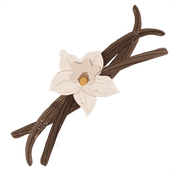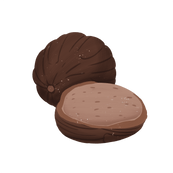 Tequila Cask Aged
Flavor Profile
Nose: Fruity caramel with a citric zest.
Palate: Soft fruit and butterscotch with a sweet agave twang, touch of vanilla and nutmeg.
Finish: Sweet buttery caramel, slightly smokey wood, honey.
Flavor Wheel: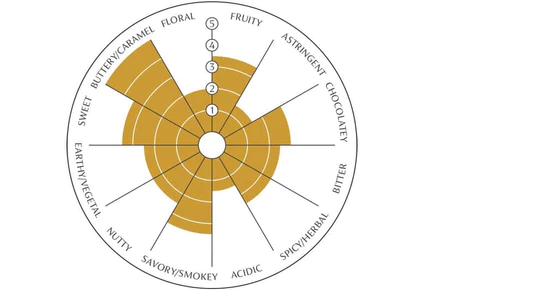 Pairs well with...
Tequila
Añejo or reposado tequila (Don Julio in particular)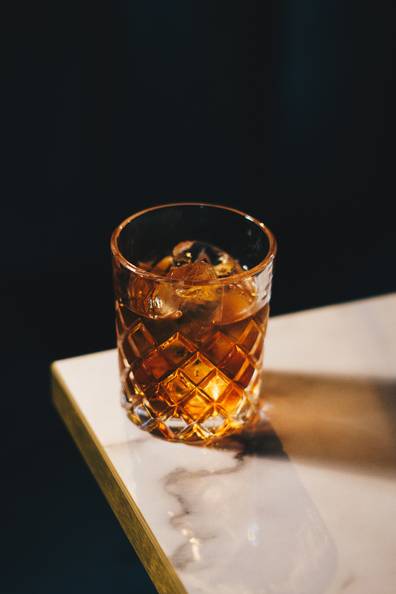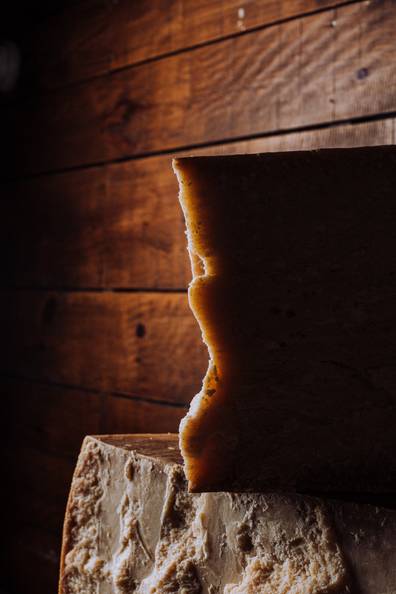 Cheese
Mild Alpine cheeses (Comté, Gruyère, Beaufort)
Soft and semi-hard sheep milk cheese
Gouda
Brie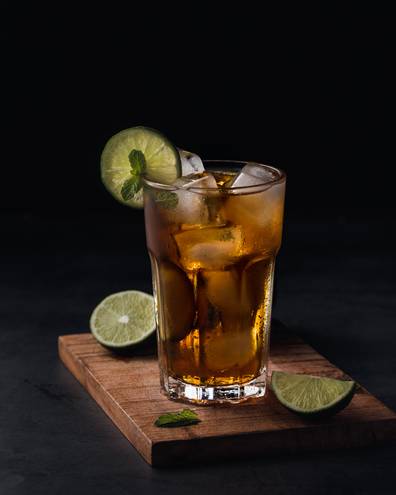 Other Spirits
Our Brand Promises